"There's many who've tried to prove that they're faster
But they didn't last and they died as they tried" – Judas Priest, "Hell Bent For Leather".
Last night I attended the long awaited "
Metal Masters Tour
" show at
Journal Pavilion
in the desert wasteland ( why doesn't anyone ever get lost in a
dessert
wasteland? You know, leftover Creme Brule and such!) south of
Albuquerque
. I remember checking the weather channel before the show. It said "chance of thunderstorms possible throughout the evening". Boy were they right! The thunderstorms took the form of Metal Gods from days gone by. The awe, inspiration, memories, just put me over the top. You see, I was weaned on Priest.
Judas Priest
. I worshipped them as a boy. I worship them now. They headlined. Leather, motorcycle, flash and dazzle. Black Sabbath, err "
Heaven and Hell
; Sabbath the Dio Years" was also there to put aged metalurgy to the test. And for a third genre we had
Motorhead
cranking out grumblings of thunder. I walked in as they began. They rocked. Sorry to have missed the fourth, yes fourth, band called
Testament
. I do not know any of their songs. We were running late. Had to finish that second martini.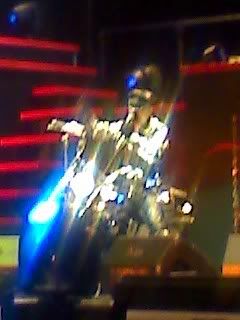 As my ticket states "No Cameras or Recording Devices" I did not take my fancy camera. After watching common people use regular cameras from their seats with no backlash I whipped out my cell phone. This is as good as it gets folks. I went to sleep at 1 and was up by 6 am writing this in my head. I am displaying certain symptoms of what may be a form of
PTSD
. For the first time I recall I am
deaf
from a concert. I can hear a little in my right ear & about ½ with my left. I had disrupted sleep patterns. My stomach is not right. But I can state with certainty that I do not have a hangover at $8 a drink!
We saw some old friends and made some new friends too of course. Everyone was there to have fun, and most everything was mellow with people of all ages enjoying the show. It was funny to see the vast difference in the fans of various ages. But they all came together for this, the greatest of nights.
The show really began as we watched the head of security drag a man up the sidewalk. The man's pants started falling down and eventually came off. He yelled to the man to pull up his pants repeatedly as he held both arms tight! So there he was with his junk all exposed for the crowd as they finished his drag. One word. Belt.
Motorhead just trolled and plowed across that stage. I later relayed to my buddy Tom G. that I had drank with Lemmy. In L.A. at
The Rainbow
. Well, actually I drank next to him. He was a regular there in the day and so was I. He was usually just standing in the middle of the upstairs bar and I would walk up to get a refill from time to time. He looks exactly the same that pale white old rock and roll vampire!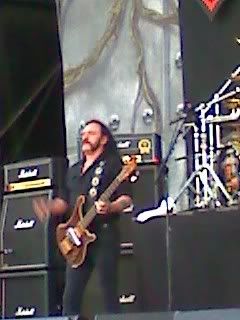 Sabbath. Dark. Evil. Unphotographable. Dio also looks and sounds the same as 20 years ago. I want to have him over for pasta and my homemade marinara. I have met Dio several times, also in L.A. back in the day. He is the most down to earth normal guy. He does not carry a crystal ball around, but I did.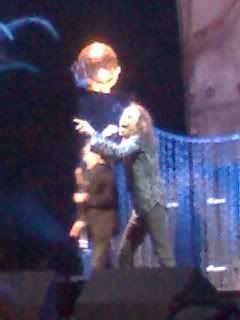 (Me - circa 1991)
And the Priest. Judas Priest. Rob Halford needed to put on a shirt but wanted to show off all his ink and exposed breasts. Sorry. I love this man and this band. They shred. They are the kings, the Gods of Metal. They destroyed my hearing. When I was young I would pull the Priest out of my secret arsenal at cover band auditions and I was in every time. Later I of course would only perform my own music and try to sing like myself. Priest is in my car. Priest is in our stereo in the old "Martini World! Private Ultra Lounge". Right next to Dean Martin. I once stood by Rob Halford to meet him at a pro metal musicians convention called "Concrete Foundations". He seemed too busy at the time for me to try to meet him. I want to drink some beers with Judas Priest. I want to do a photo shoot of them on tour. I want to write their stories. I want to work for Judas Priest. If you can hear me God, please relay this message to the band.
We came, we saw, we conquered. We treemed the hedges of many a small Paveelion. Did you say something? Thank you ticket master for my gazillion $ 2nd row tickets. Thank you Albuquerque for Journal Pavilion. Rock on.
(You are not allowed to lean on this fence when eating chicken tenders?)
(You are also not allowed to dance drunk while touching this light pole)