B is for
Barelas
,
Barrio
,
Burrito
,
Ball
... Where the hell am I going with this? I ate at the
Red Ball Cafe
yesterday!
It's in Barelas! It's um Bellisimo! Oh wait, that's Italian and this place is New Mexican. Hey, did you know "burrito" means little donkey?? Well anyway. Now let's go back and start all over... at the front door.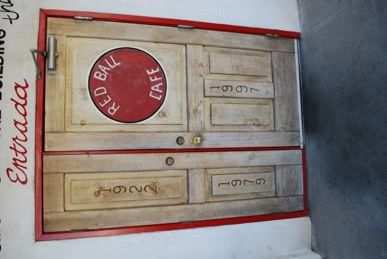 The first time I ate here was only a few short weeks ago. I was hooked immediately. The first time I ate here was because we couldn't get in at our semi-regular spot down the street. This is now my semi-regular spot. I was not the only one surprised to hear that the Red Ball Cafe has been here since
1922
. I have spent about 30 years of my life right here in Albuquerque and somehow missed this jewel.
I'll admit Red Ball had been suggested on another crowded visit down the street. All we could see from that vantage point was the old neon sign from days gone by. We were a bit hesitant with not enough info and a faded old sign. I pictured a run down place that may not even be in business. I wish we had been in adventuring mode back on that day.
This incarnation of Red Ball Cafe was opened in
1997
by Jim and Theresa Chavez. In 1996 Jim was the first businessman to buy one of the boarded up historic buildings on 4th Street that had been acquired by the city under the "Streetscape" project. There's a picture on the wall... it was a dump. Having grown up in the Barelas neighborhood Jim was determined to be a part of restoring the area to it's former glory. With the addition of a new kitchen and pretty much renovating the entire place it's good as new. Great job!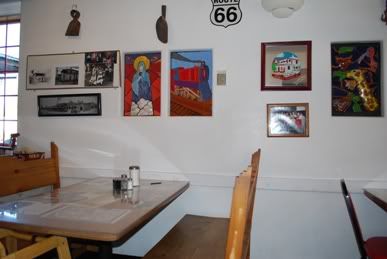 I'm not going to linger on the appearance too long as I am anxious to rave about the food. It is cute and clean and fun from the outside to your table. There is a mural of the old neighborhood. There are nick-nacks galore. There are Popeye characters painted on the walls that I will have to get more info on during my next trip. They are tied in to the famous "Wimpy Burger". Actually there are various Popeye character inspired dishes.
I am not the first to write about the Red Ball Cafe. Each table has various articles under glass along with the war time menu and other interesting memorabilia. Each table is distinctly different from the next. I am going to eat my way from table to table until I know everything about this place by heart.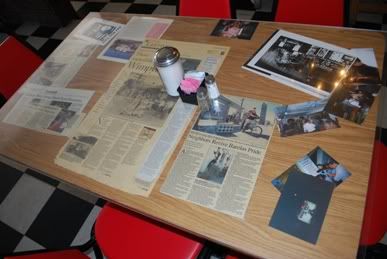 Everyone is so nice here... like family. It's like going to eat at Grandma's or your Auntie's house. There are even family pictures on the wall behind the register.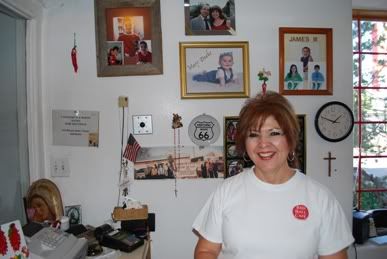 And it tastes home made too! The burgers taste like I just took the patty off my own BBQ grill. The green chile is hot and can also be substituted for equally hot jalapenos. All their chilis and salsas are made fresh daily. Their beans are smashed in their own juices, not "refried". Their tortilla chips are home made. And these are weird and delicious... "Chispas"! Like a piece of the shell off a Chimichanga is the best way to describe it. And
CHICHARRONES
!
On yesterday's "brunch" trip at 1 PM I indulged yet again in a
#17... Enchilada Plate
. Red. Beef. Egg, over easy, on top. And a side of home made Chicharrones to sprinkle on everything. Mmmmmm. That reminds me- the other night my mother was explaining to her childhood friend who was visiting how much I enjoy good food. She was amused at how the quality could be gauged by my dramatic oral response. Yum, mmmm, maaan, etc. Could the entire cafe hear me moaning in ecstasy yesterday?
Red Ball Cafe is located at 1303 4th Street SW, just north of Avenida Cesar Chavez. They operate hairdresser's hours, or is that just mine? Closed Sunday and Monday. Open Tues-Fri 8 am to 2 pm. Saturday looks like I just caught them because they are open 7:30 am to 1:30 pm. Breakfast-brunch-lunch. Want dinner? Get it to go before they close. Now go. Taste. Get hooked like me.