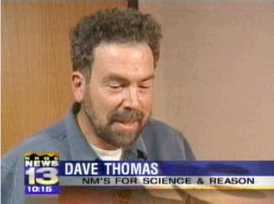 Speaking of brain crushes, you can do no better for brilliant and wacky people to spend time with in Albuquerque than Dave Thomas and Kim Johnson of New Mexicans for Science and Reason. For those not privileged with regular lunch dates, Dave and Kim share their wisdom with a broader audience via their regular radio show at 1350 a.m. every Saturday afternoon at 2.
Today's feature: Stump the Physicist.
Now if I could only persuade them to podcast the show.