So, this evening a little before 6, I was driving back to my apartment from my folks' place. The route took me down Lead, whereupon I noticed something a little off. Namely, a column of smoke drifting up and over the road. Not something you see everyday, really. It appeared to be coming from area of the little market that's a block from my house. My first thought, really, was that it was waaaaaay to early to be roasting chile, and besides, there was way too much smoke for that to be the culprit. However, there were no sirens blaring in the distance! Whatever was the problem?
Well, I got to my place and decided I should go check out the situation. Upon heading down Columbia back towards Lead, I didn't immediately see any smoke, so I wondered if things had resolved themselves. No, no they had not. As soon as I turned onto Lead, there was the smoke, having grown much thicker and no longer rising, but blowing straight across Lead, forcing the traffic to slow way down. Well, you know what they say about smoke: where there's smoke, you'll find fire.
The building in question was a vacant house just behind the market. Things did not appear to be going well for said house. There was smoke seeping out from the roof, and soon after I arrived, the fire actually started punching holes in the roof, especially tearing through a porch on the north side of the home. It was tough to tell just how much fire there was; certainly from the amount of smoke, there looked to be fire in abundance!
Said fire quickly attracted quite the crowd. I don't know how long we waited, but I have to admit that I was a bit unnerved, seeing as though there is a fire station on Girard, less than a mile from the site of the conflagration. Would it really take them that long to show up if, say, my place was on fire? However, soon enough, sirens! Coming from... the southwest? Yes, it was the boys from Fire Station 1 (aka, the One Right Across From the Flying Star). They showed up in force.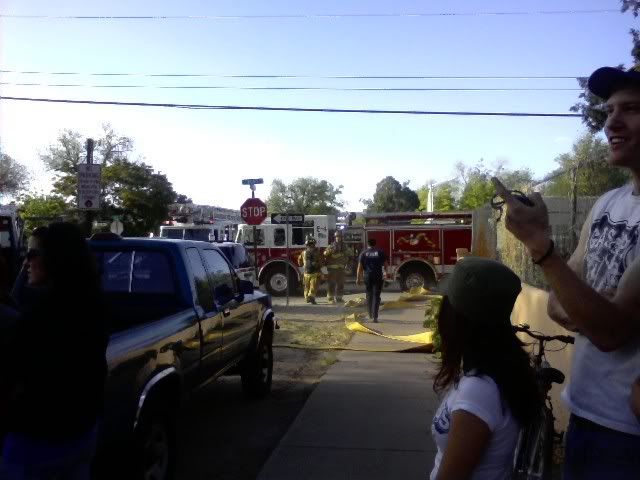 I can't confirm this, but I have to imagine that this was a joint response between station 1 and the station 3 (the aforementioned Girard station), because there were very quickly plenty of response vehicles on the scene, blocking the traffic on Lead and starting to get water on the fire as quickly as possible. Given the amount of dry trees in the area, this was a good thing. One of the first things they did was to assault the boarded-up windows of the house.
They busted one out from the outside, then went in and attacked the other one from that side. This definitely helped to indicate that the fire wasn't quite as raging as previously thought, as no flames came bursting out the newly opened windows... which was good, given the number of firefighters standing in front of them.
It is at this point that my narrative must flicker out, so to speak, as I had to get back home and get dinner before my girlfriend showed up. Walking away, I got a shot of the smoke that ended up being quite dramatic: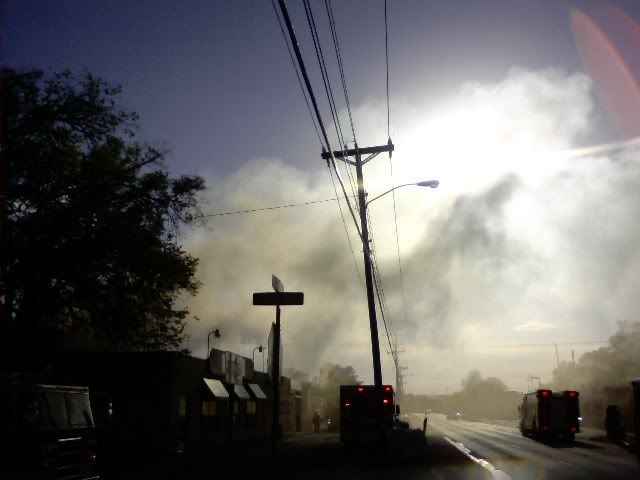 Said girlfriend and I ended up walking past the scene a few more times over the course of the evening, and I think they ended up knocking it down fairly quickly. However, they still had the road closed off when we were walking back from the duck pond (7:30-8 range?). They had actually put up a ladder to attack the fire from above. The things I miss!
Oh, and I should mention the one thing that made this slightly surreal. I mentioned that there was a bit of a crowd for this? Well, who should I find myself standing next to for most of this time, but The Pajama Men's own Marc Chavez. I have exceedingly little evidence to prove this, just some very poor quality footage I shot from my phone. When I pan over to get the guys on my left, one of those guys is Marc. I swear.
Note: This is the first time I've attempted video linkage here, so... this may not work at all.