This trip was a bit crazy, I'm not going to lie.
We all had flown in separately but had lined up hotel rooms... or so I thought.
I was in North Carolina to find out one of our rooms had been canceled. It took my one hour and 45 minute layover, tears, and anger to get it straightened out. I am kind of convinced that I will never stay at another Hyatt again. Except of course to go back to The Great Boston Burlesque Exposition.
First and foremost, I was impressed with how organized the convention was. They had a computer system and they also printed out name tags for everyone.
Friday night was the Legend's showcase. I always love to go to these shows. I find it such an honor to see the legends perform. It was also an honor to witness the declaration of April 10th as Lily Ann Rose day in Cambridge!
After the Legend's showcase was the pool party. Here is Bettie and I in our super cute swim suits:
The rumors had gone around that several of the Boston ladies were amazed that we flew all the way out from NM to do their show. *blush*
And the Saturday begins! We chilled out in the hotel room and decided to try and youtube some of the performers. We found
The Incredible Edible Akynos and youtube
and LOVED her!
We had tech rehearsal. It was a pleasure to meet Akynos and Hypergender Burlesque at tech rehearsal. These ladies were supportive, interesting, and fun! We nearly had a minor heart attack after having a slight possibility of not being able to use our black lights. Our tech rehearsal was okay but none of us were pleased. We found an empty room and went back to rehearse. It worked out well that Sin's sister in law is a dance instructor and could help us make some last minute adjustments.
After that everything went by really fast!
Bettie and I locked ourselves in the bathroom to curl our hair and do our makeup. It was shocking that her and I were ready before everyone else. That never happens.
One of the greatest things about this show was the cheering squad that had come out to Boston to see us. Camile L'Teaux had joined us and had invited her friend from Boston to come as well. 4 people from Sunshyne's family drove down from Jersey to see us. Sin's sister in law was an absolute doll who not only came to see us but helped us every step of the way. My sister in law came down with her boyfriend. We had quite a little cheering squad, it was pretty darn awesome!
Backstage was a bit nerve wracking. Looking back, we must have stuck out quite a bit. Everyone else is putting on sequins, feathers, and sparkles. Then there is us, in hoodies and cargo pants. There isn't one sequin or one Swarovski on us.
We were on the bottom of the program list so we did get to see most of the pieces which were wholly very great. Before I realized it, it was time to go back stage and get ready to go on stage.
Back stage I had a lovely conversation with
Red Snapper
and
Scarlett Letter
from LA. I didn't find myself getting exceedingly nervous until we walked on stage.
Music starts. We start. Okay. Music skips. Keep going. Music skips again. And again. And again. Okay, cut the piece. Scratch walks on stage and buys some time until they can get our music together... it worked fine in tech rehearsal? Okay music back on. Start this piece!
I found myself nervous on stage during the piece. The end comes up and the music just stops. Fortunately, we all kept going and kept it on beat until the end. As we walked off stage to the beat, I peeked out into the audience and noticed we got a standing ovation. Not to mention that several of the judges stood up.
I walked off stage disappointed in my personal performance... however, it might be fine when I see the tape, I'm not sure. I think it partially felt awkward because of the music glitches. We gathered our stuff, squealed a few times, and changed. We went back into the audience and sat in the back with the rest of the performers. So many of the performers turned to us and told us how great the piece was. I started to feel like I was on cloud 9.
The show ended and we took at 20 minute break to give the judges some time to figure out the scores. The entire highlight of the trip starts here! So many people approached me and the rest of the girls to compliment us. I felt like a rock star in a completely different way than how I have felt before at any other show. Its always nice to get a great crowd reaction in Albuquerque however, this time it was out of state with an audience that had never heard of Burlesque Noir and possibly had no idea where Albuquerque was. It was also incredibly amazing to hear from our peers and the legends how much they enjoyed us.
Now it was the moment of awards. First off, Scratch the MC had made a comment to the audience that there is burlesque everywhere, he looked at us and said, "Where are you all from again." In unison we all screamed, "Albuquerque". The legends stood up and gave their picks for their favorite piece. Then the awards for Most Humorous was given to
HyperGender Burlesque
, Most Classic was awarded to
Lucy Buttons
, and Most Beautiful was presented to
Honeysuckle Duvet
(and let me tell you she was awesome!). Only two awards left... the big ones. Best Troupe... the woman gave a bit of an introduction and I still wasn't sure if we had gotten it or not. Then she announced our name, "Burlesque Noir". In unison we all squealed and made our way to the stage. Then they announced the best soloist and it was none other than
The Incredible, Edible Akynos!
Woo!
Here is my favorite photo with the legends and some of the other winners and performers: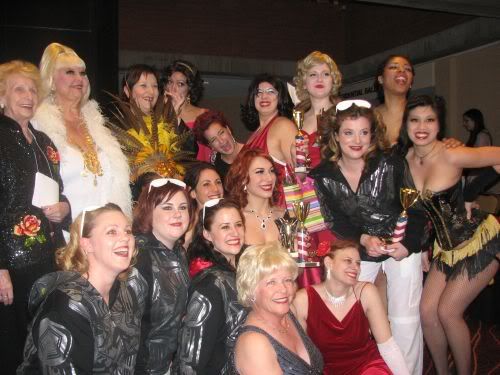 Back to the hotel room for partying!
Here was the beautiful view from our balcony that evening: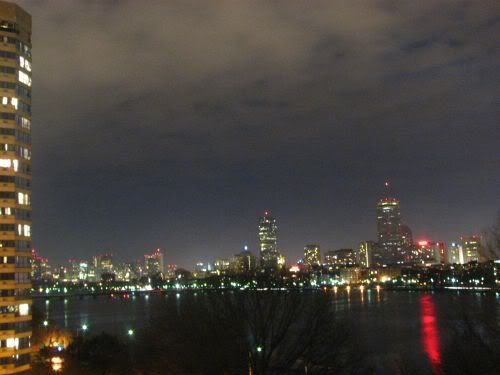 We did what we usually do to celebrate our successes and watched our videos. LOLZ. We also shared with each other the different compliments we all receieved individually. My favorite was hearing that
Candy Carmello
, one of the legends, had told two of the ladies that she wished she had had two legend awards to give because she would have given the other one to us. The reason she chose to give it to the other lady was because she already knew we had won.
I had to drink from the trophy... partially with the thought to send it to someone who thought she was too good for a group of fat girls: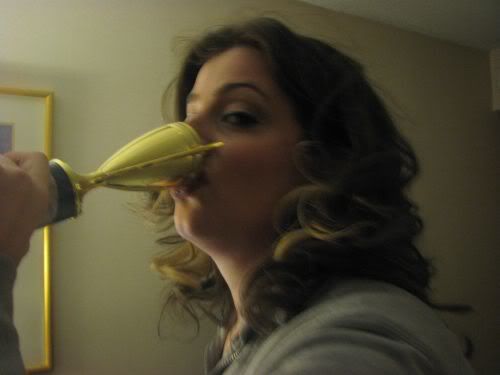 I spent Sunday with my sister and watched the newcomer's showcase. I greeted Monday with exhaustion. We started to fly home and unfortunately got stuck an extra night in Cleveland. :/
One of the best parts about coming home was seeing the amount of times people had reposted that we had won! I was astonished at how supportive Albuquerque can be. It is also awesome to hear that we have new fans here in town because of this!
Here is the montage video featuring some of the performers and most of the winners:
We are towards the end in blacklight. Akynos is towards the beginning in the beautiful gold feather headdress.
When I get a copy of the actual video I will be having a viewing night at my house. I can't imagine it will be too long now since this montage came out so quickly.
We are invited to come back next year to perform at the Friday night Legend's showcase and I get to judge the Main event!
I guess everything went wrong that trip... except for the most important thing... fulfilling a dream to perform in front of my peers and not only being recognized for our hard work but being rewarded for it.
I am waiting for the MEW announcement. I don't honestly think that we will get accepted but a part of me is still holding my breath.