Last night I had the honor of hanging out with
Emmy award winning
actor
Bryan Cranston
along with the cast and crew of
Breaking Bad
. For those of you who live under a rock,
Breaking Bad
is a hit TV show (one of their only TV shows incidentally) on
AMC
. Yes, AMC… American
Movie
Classics… right?
The series,
Breaking Bad
, is shot in and around Albuquerque. This is not necessarily the awesome part. What is so awesome is the story takes place in and around Albuquerque! The story is basically a High School (Highland?) science teacher find he has cancer and A. needs money for treatment and B. wants to leave something for his family just in case treatment doesn't work out. So… he makes Meth! Dark Comedy? Not so funny to some of you? Whatever. Get over it. It's TV.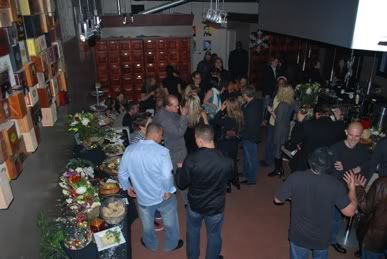 Oh it burns burns burns the ring of fire. I love this show. I personally am fully addicted… no, not to Meth… to the show! Rock on. And they will. They are wrapping production on season 2 here in the Land of Enchantment. Season 2 is set to premier in March of 2009. I am on the edge of my seat drooling. I saved that from last night where I was on my best behavior. I would have taken more pics but didn't wanna look like a douche! I repeat- I am not papparazzi, hell I can't even spell it! I will say this.. word did get around about
my big Xmas Party at Imbibe on December 23
. Be there or be square... and bring socks and stuff for the homeless!
Thanks to
Aaron Paul
,
Dean Norris
, and those I simply tried to get a picture of all incognito like with my martini-tux jacket-giant cigar in tow!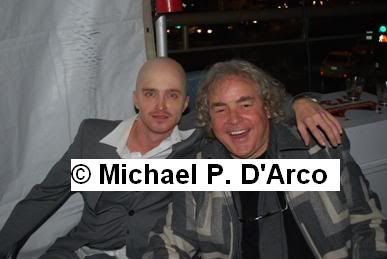 So this was one of several private wrap parties for various productions in our hood at
Imbibe
. There may even be "Rap" parties as hear
Xzibit
hangs out there. And guess who calls that his
favorite watering hole
? Yes, me. Shout outs to
Wes
,
Chris
, Paul, Nate, Fred, Jason and all the
lovely ladies
of
Imbibe
who made this party such a success. I said it last night and I'll say it again… my warmest congratulations to Bryan Cranston on his Emmy! Until next time… I'm
Martini Mike
, and you're not.