Yah, "remote addition". You heard me. I jetted off to my old "haunts" (haha) in Hollyweird for Halloween. But what a small world it is. I ran into some people from ABQ or who are friends with people from home. I gotta make this quick as I am running late & my head is pounding.
We spent last night at The Rainbow Bar and Grill (Sunset Strip) with the ghost of Keith Moon and other dead rock stars. I went as the ghost of my former self.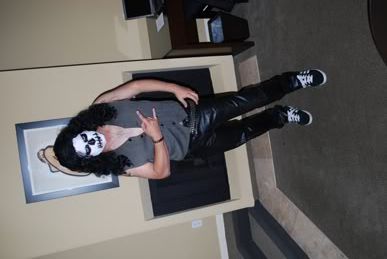 Our bartender Rachel is in a band called
Cockpit
& is from Santa Fe/Las Vegas! She was friends with
Randy Castillo
, from Albuquerque.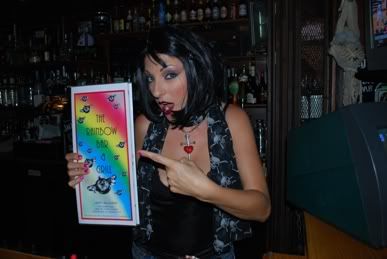 Now did you know, because I didn't, that
French Stewart
of "3rd Rock" fame is from Albuquerque?! We exchanged photo ops & #s. He was dressed as that alleged cult leader
Warren Jeffs
. Super nice guy. I will assume this was his wife of 10 years with him-
Katherine LaNasa, actor
.
Having nothing to do with Albuquerque... rode the elevator with
Mary-Louise Parker
from "Weeds". She's staying in the room under us.
Well Happy Halloween from Sunny LA!