Got wood? I do! Well I went and did it. I bought
Firewood
. I was so motivated from continued
winterizing last weekend
. Also, there was some mention of snow on Thanksgiving per the
local news
. I will believe it when I see it! Looks like a chilly 54 degrees on the forecast now. But hell, better safe than sorry.
I received many suggestions on where and how much. Along
Tramway
.
Taos
.
Wood cutting permit in the woods
. I opted to go where I have gone in the past. A little feed store on north 4th Street named
Farmer's Feed and Supply
.
This year they had Pinon at $150 for 1/2 a
cord
or Cedar at $150 for almost 3/4 a cord! I am used to a mix of woods but opted for the Cedar at this time. This wood is cut and split too. Delivery is $25.
As I could only fit 1 log in my sports car and don't want to dirty the SUV I went with delivery. I knew better than to do this chore on a Monday after work. So Tuesday rolled around and my wood was dumped right in front of my empty wood rack while I was at work. Behold the mountain 'o wood.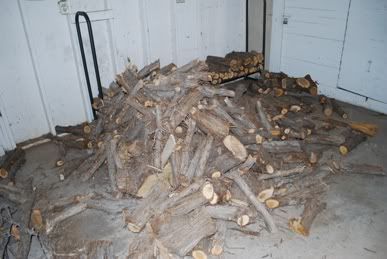 An hour or two later I have stacked most of it semi-neatly.
But wait! There is also a mega pile of bonfire logs beside it.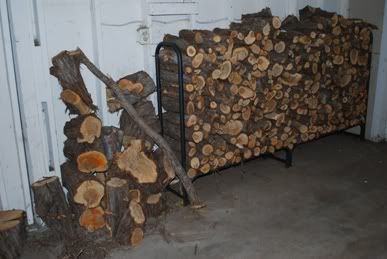 I feel good. Im ready to burn. Wait, it's still kinda warm out! Oh well, maybe next week. If any of you other procrastinators want some wood, call Kenny Fresquez of Farmer's Feed and Supply at 344-1817. Or cruise the streets of Albuquerque, or Craig's List, or? Let it snow!