I bet you've been wondering where I've been. I mean since that Hollywood Halloween anyway. No? Fine. Well last night I was at Imbibe! Wait, did I see you there? If not, you missed a great event. It was their "Drew Estate Night".
Drew Estate
is a Nicaraguan cigar company... makers of the "Acid" line you may have heard of as well as about 7 others you may not have.
Having never been to one of these at Imbibe I was not sure what to expect. It turned out to be so awesome that maybe I shouldn't chat about it all over town! OK, but only if you promise not to bring all your friends to the next one and take all the good seats. There was not just the cigar rep there peddling tobacco. There was also
Gruet
(Alicia from Imbibe and Sofian from Gruet pictured) and
Tommy Bahama Rum
reps on hand! Ciao. There was live music by
The Woohabs
. There were door prizes every half hour. There was laughter and merrymaking and fiddlers on the roof. Oh no, sorry, that was me on the roof.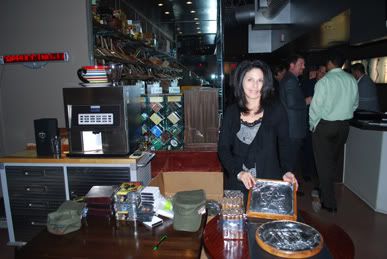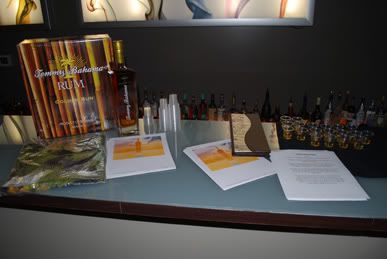 One song comes to mind every time I set foot in this place. That song is
"Martinis on the Roof" by Superchunk
. What are the words? I have no freaking idea other than the name. Do you? Yah, just try googling that... good luck. So anyway, we
bought some cigars
, met some friends, shook some hands, headed to the roof.
Rooftop. The temperature was juuuuuust right. We grab a big VIP sectional with firepit aflame. My beloved
Route 66
flickers below. Our delightful server Maria brings our medication. Lo and behold there is the fearless leader of our DCF Cigar Club...
David
, sitting at the table right next to us. Now along comes
Joanie Griffin
, Imbibe advertising Goddess and creator of their logo... and her pretty friend. Sit. Converse. Champagne and Martinis flow. I meet the rest of the core Imbibe gang too this night. Wes Golden and 2 more of the 4 partners. See, I told you I would never remember names! (Yes, there are 4 principal partners, then the investors, then the
big fat liars
grifters
um people who claim to be "the owner".)
As the night rolls on we stock up on goodies. Buy 2, get 1 free cigar. Free hat. I win one of several nice cigar cutters. Grand finale, just as the gas firepit no longer does the trick for warmth, I win a giant cigar ashtray! Life is good. Sometimes it is tough to leave on a weeknight but we fight the temptation exit stage left. Oh, we will be back. I can't wait for the next event. Until next time... cheers!