As the tiptoes of
the last house guest's
high heeled boots
click clacked across my home... I was gently awakened this morning. I instantly recognize that a 2 a.m. Quesadilla/glass of water combo has saved me from a painful morning. As CNN is quickly changed to Encore Mystery on the Master Suite television, I am reminded of last night. "
Nothing But the Night
" (1973) starring Christopher Lee and Peter Cushing is showing. They discover a cult of Satanic Orphans on a Scottish Isle! Good stuff! I think we saw these kids last night. And I swear this is the same music as Planet of the Apes and Omega Man, but alas
I am wrong
.
What started out as the desperate need to do something different for happy hour of course turned into a night of adventure. Where to begin? How about Happy Hour! We got happy alright. Stop 1 for the night was
Blackbird Buvette
. Upon a brief inspection of their MySpace page I quickly determined that the food was not overly exotic, but reasonably priced. I also spied that there was a "Human Jukebox" from 7-10. Wanting to get out the door by 5:30 in order to get a table, like when we go to
Nob Hill
, and the reality of gathering "Team Martini" are always two different animals. However, in my dreams we would possibly be gone by 7 to destination #2. Nope. We arrive at "Blackbird" about 6:30, just in time for the tunes. And we were GLAD! It was fun! He was great! "Mike Weaver's Live Jukebox" goes something like this… they pass his song list around and you go write down your requests at the stage. He has sampled whatever he needs other than the guitars and vocals. He is a one man band/jukebox! He is funny too! Tip him. He'll be back on the 30th.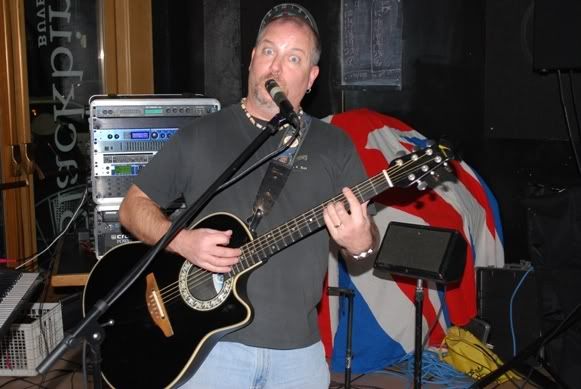 There is an eclectic crowd of mostly adults in the establishment. Several of us have ordered NY Strips. They come back shortly to break the news that they are out of steak. OK, cheeseburger it is. I had a blue cheese and grilled onion burger to be exact. The martinis were perfect. The beer was cold. The service was fast. And who knew they had a
regular website
?!
Across the street a film crew moves about like so many ants. We stop by for a closer look. It is the TV series "
In Plain Sight
"- which won't wrap until May according to the crew huddling their Mohawks together for warmth. I snap a few photos like the "brood of tabloid vultures" in this movie I am watching. Haha. Pictures of empty chairs. No
Burquewood Watch™
. Ciao.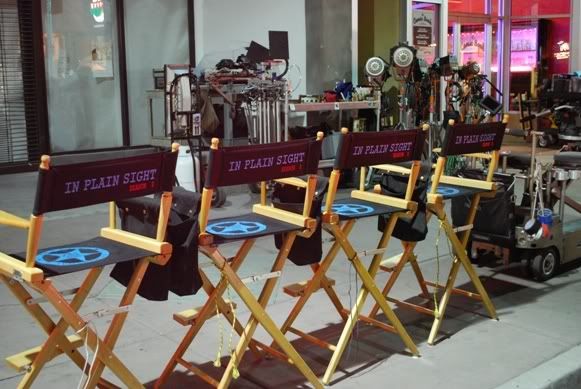 Now we must exit downtown for the UNM area. Well, the "Brick Light District" to be exact.
Cherry Tempo
, friends of a team member, are playing at the
Winning Coffee Company
around 9. We catch the opening act, "Coma" ?, rocking out for a cult of Satanic Orphans! I know all about air guitar but air
keyboard
?! Yah, OK, he (the keyboardist) jammed but that is just weird. He jammed like Eddie Van Halen on crack but with a keyboard. We threaten to show these 15 year olds how slam dancing is really done as we laugh/cry towards the front of the crowded venue. I completely get what they are doing and appreciate the raw energy that is radiating from this 2 man group. Rock on! We grab Cappuccinos and duck out to spike them with Cognac from a certain someone's flask. Cherry Tempo is playing in no time flat. We run in. They kick ass as usual. It is a short set. Check them out if you get a chance.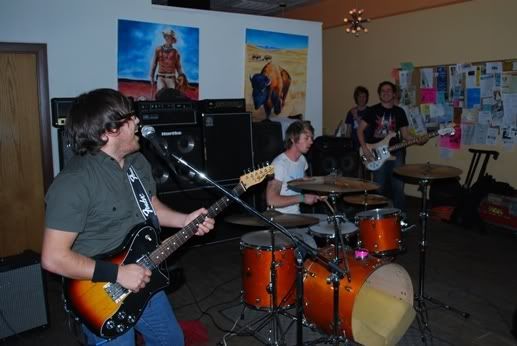 We find ourselves wandering, following the scent of alcohol, back onto
Route 66
. Coffee can be so sobering. Next stop
Brick Yard Pizza
. It is not crowded, which we find odd for a Friday night. The waitresses are cute, the service is great, and the prices are real good since my buddy paid! Um thanks Nitro Nate. The liquor selection is limited it appears… but they have something we each like in stock. We are not hungry now but have eaten here in the past and it was
delicious pizza
. Oops, several drinks and a discussion of Satanism later, time to call Safe Ride. 30 minute wait? Try 10. And they're off... to the afterhours party!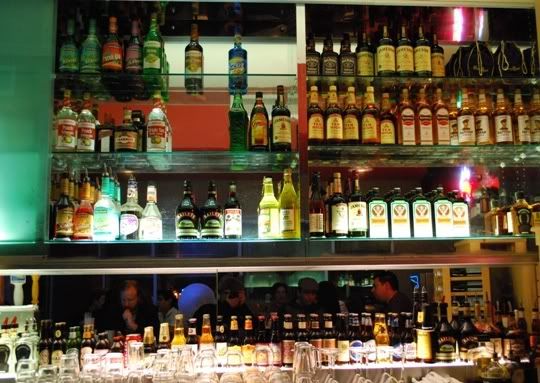 Having never heard from some friends that had branched off earlier we now head back to headquarters for a nightcap. The cab driver and the girls have each other in stitches the whole way. Well, ½ way… until the tire blew out! I seriously thought he was kidding until the familiar "thump thump thump" below which quickly became a complete flat. Well, we can walk from here. We tip the poor driver and begin to hoof it for the final 10 minutes down the dangerous streets of Ridgecrest. We watch out for
Sophie
. Haha. I just remembered that
Sleestaks
were
playing
at The Atomic Cantina. Oops.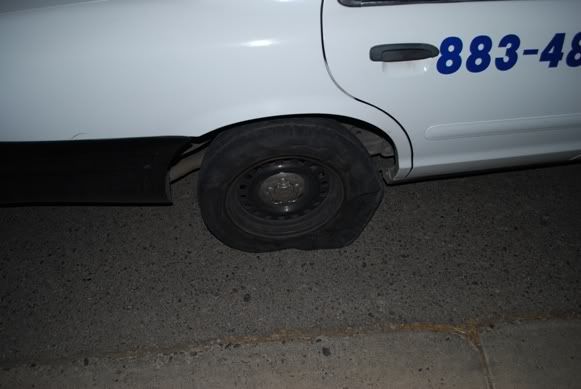 So meanwhile back at the ranch… we have a second wind. Strange. Although I wore a big stupid hat out tonight… it's time to break out the other stupid drinking hats! It's got to only be about midnight. I whip out some White Russians for the small crowd. No cigars. No dress code. No lines. We are content as we recall the night's sights and sounds. One or two sober up and fade away quietly. One or two stay over. One or two make the short jaunt a few blocks to their home. Albuquerque… it's not just for breakfast anymore.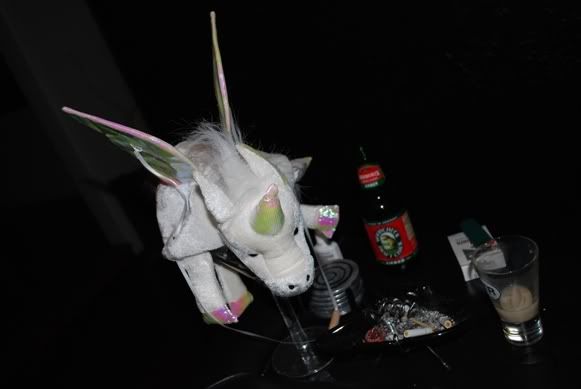 *MORE PICS???
Go to my Flickr.com spot!