I was singing that to the tune of
Wishin' and Hopin'
". I know, im an idiot. So I was wishin' and hopin' I would enjoy Shop N Stroll as usual... and I did!
It was coooooold! Note to self: wear a sweater &/or gloves &/or scarf/other winter gear next time. I tried to huddle as close to the fire jugglers as possible. It was quite warm right under the heater on the patio of Monte Vista for 45 minutes of my life I will never get back. We never did receive a drink and walked out. Other than that, we walked close together.
Historic Nob Hill District
.... on
Route 66
. First thursday every December from 5-? Holiday Shop and Stroll! Surely more of our friends and family can remember this. It was the largest crowd I recall seeing in the years I have attended the event. Not as much music as I recall in the past. What was there was great as far as musical groups. I didn't take notes and it's hard to ask their name when they're playing! Note to bands: "banner".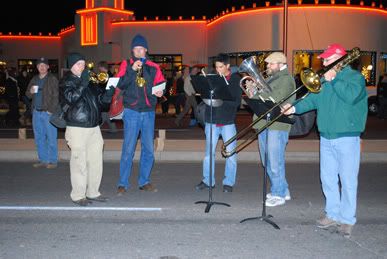 We began at the corner of Carlisle and Central then headed west. Stopped in some of my favorite stores and bought a few small items or dropped Christmas gift hints.
Mariposa Gallery
,
Revolver
,
Que Chula
,
Masks Y Mas
, and
Old World Imports
were among the highlights. Coincidentally(?) many of the donors of door prizes for
my big Holiday event coming up
!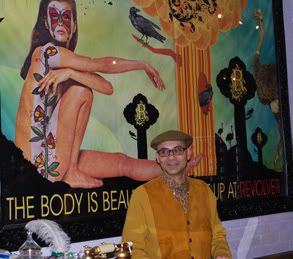 I was also ready for a cocktail during all this walking. ("no, gee... not you Martini Mike") Ha. Let's seee... where did that adventure begin? Crawling into Time Machine. Deedle Deedle Deedle Deedle.
Laru Ni Hati
!
(Well, they have beer & wine with food here. Laru Ni Hati is a Beauty Salon with a humidor, Cuban Cafe, and a pool table for those of you unfamiliar.) Had a long overdue fine fine Cuban Samich. Mmmmm good. Also, if you aren't already addicted, order some Tostones. Next stop was a very crowded
Nob Hill Bar & Grill
where we said hi to
Chef Sam Etheridge
(
AKA "The Man"
) who has graciously donated the munchies for my
AHCH
Critical Needs Drive big holiday event
. (Name keeps mutating huh?)
No way I was going to squeeze in here for a drink this night. Zinc... same thick crowd. But we said hi and moved on to collect more stray friends.
Everyone we met all night long had smiles... even this guy!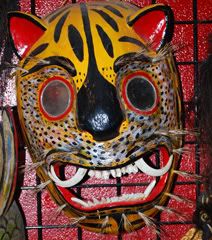 With a lady on each arm I ended up at a warm, and just filling up,
Imbibe
. I love
Imbibe
. Martini Please. Aaaahhhh. My work here is done.