With this "photographic portrait of the University of New Mexico," the folks at UNM Press bring together three of the university's most devoted chroniclers to capture the complexity of the campus's architectural landscape. Author V.B. Price's exultant introduction offers an idiosyncratic yet informative summary history of the university itself, and former university architect Van Dorn Hooker lends his authoritative imprimatur as the book's credited "producer." But, without question, the nearly one hundred images from the lens of acclaimed Albuquerque-based photographer Robert Reck provide the real reason to pick up this book. (A widely published and internationally recognized Architectural and Interior Design photographer, Reck is a contributing photographer to
Architectural Digest
and served as the lead photographer for the now notorious 1987 book,
Santa Fe Style
, which UNM Professor Marta Weigle claimed "canonized and popularized" the contemporary notion of Southwestern décor for a global market.)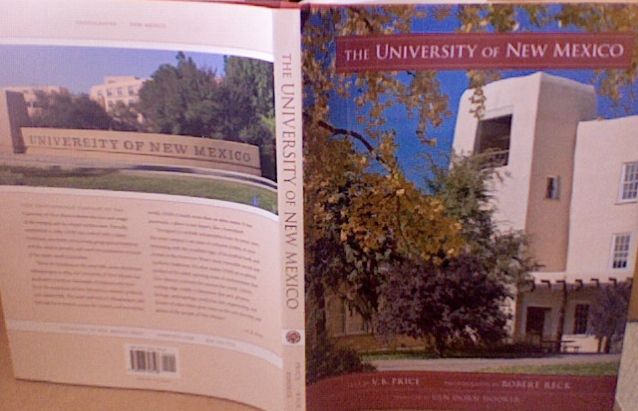 In
The University of New Mexico
, Robert Reck's images amplify the dimensions of UNM's architectural landscapes in uncommon, captivating ways. Reck's photography discerns the distinctive beauty of his architectural subjects at both the most grand and intimate of scale. On the one hand, Reck ably highlights the simple, holistic beauty of two of UNM's newest, most visible and most commented-upon buildings (the UNM Hospital and the new George Pearl Hall). On the other, Reck's camera deftly captures some of the most emblematic architectural "experiences" offered by UNM's campus – what it's like to walk through "The Center of the Universe," or sit by the duck pond, or be on the inside of the College of Education's multicolored glass wall – while also suggesting new ones. (My own casual stroll down the staircase at the center of the SUB has likely been forever transformed by Robert Reck's breathtaking photograph from its top landing.) To be sure, Reck's photographs are perhaps most luminous when unpeopled, but every image collected in this volume confirms Reck's reputation as a master of composition and light.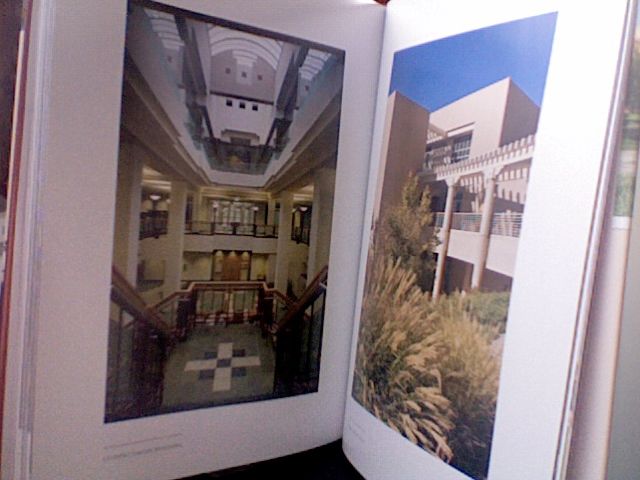 Perhaps inevitably, though, any book proclaiming itself a "photographic portrait" of a place, space, and institution central – at least briefly – within the lives of hundreds of thousands of New Mexicans opens itself to easy critiques of what's not included in its pages. And as one of those New Mexicans, I was struck by some of the omissions. As I turned the pages, I wanted to see what Reck's camera might show me about the notorious "skirt" of Ortega Hall. Or the angular tumble that is the Humanities building. Or fraternity row's architectural hodge-podge. And while the numerous images of the newer medical buildings along the northerly stretch of University Boulevard are interesting, the relative absence of – say – the Center for the Arts, Johnson Center, or Centennial Library from this "portrait" is conspicuous (especially when a full page is devoted to a pretty picture of a trumpet blossom). The lack of a discernible organizing principle helps little to rationalize such editorial decisions, and the absence of archival details (like dates of construction or the architect's name) limit this volume's utility as a reference text.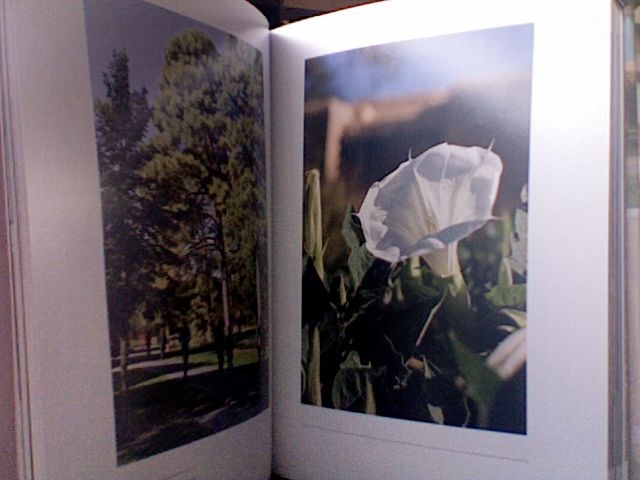 Yet
The University of New Mexico
remains a beautiful book, replete with extraordinary images from one of the Duke City's most noted photographers. Leafing through it will almost certainly inspire anyone who knows UNM to reflect upon their own favorite campus spaces and places – and possibly give inspiration to pick up a camera and compose their own "photographic portrait of the University of New Mexico."
The University of New Mexico
By Robert Reck (Photographer), V.B. Price (Author) and Van Dorn Hooker (Producer).
Albuquerque: University of New Mexico Press, 2010.
128 pages, 94 color photographs. $34.95 hardcover.
UNM Press
•
Amazon
•
Bookworks
* * * * * * * *
Brian Eugenio Herrera (aka
StinkyLulu
) is a writer, teacher and scholar who spends a lot of time in the basement of UNM's College of Fine Arts. See more about him at
http://www.brianherrera.org/
.