What a warm beautiful Saturday afternoon. What a nice day to put the top down and take a
long ride
… or patch the roof! God I loves me a roof. Well, to hang out on, not fix! Unfortunately I only came to grips with the need for some patching shortly before my vacation a few weeks ago. Porch roof, old and cracking, flat, leaking a tad in monsoon season, yada yada. Did cleaning the gutters help? Who knows… we have had little moisture! So, we are down to
winterizing time
at long last. I know it's time because we lit our first fire with a
fake log
last night!
Somehow the new Bond movie sounded better than this chore last weekend. At least I picked up what sounded like the right thing upon inspection of the roof. Oh, and after consulting several other inexperienced friends. Plastic Roof Cement. And a plastic putty knife. Maybe next month I'll cover the other
swamp cooler
and buy some
firewood
.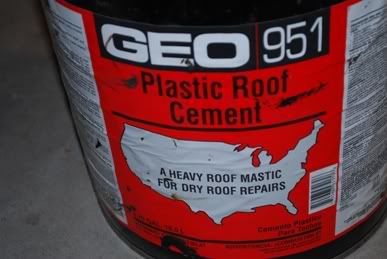 I first stumbled upon Duke City Fix years ago after googling gone awry. I was looking for home repair tips for our area... "Duke City Fix" sounded like a perfect adobe and old push button light switch forum! In honor of that splendid accident I am here to share some info.
I wish this chore upon no man, woman, or child. But, you gotta do what you gotta do. I would like to share a few tips with the rest of the inexperienced roof patchers out there. Tar and paper is one thing, but this naked roof cement application kind of sucked. So, I hope this helps.
1. Do this in the late spring or early fall. That can of gunk that sat at room temperature for 24 hours will quickly become difficult to work with as it drops 10, 20, or more degrees.
2. Maybe hire a
trained professional
. If you do not possess the time, energy, or previous experience with a trowel &/or putty knife seek out a licensed contractor or reputable handyman now.
3. Plan your escape route. Do you want to get tar all over your best ladder? You may as well throw out your gloves and climb down very carefully.
4. Don't stand too close to the edge after inhaling those fumes for some time.
5. Wear long pants and long shirt sleeves. Wear old pants and old shirt. Wear old gloves, maybe 2 pair!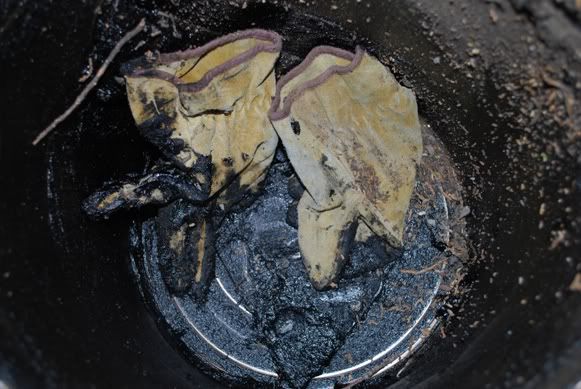 6. Be prepared to throw some clothes away. Gently place your oldest
sneakers
, your oldest gloves, and possibly the rest of your clothes into the empty bucket and shoot it off the roof before leaving the scene of the crime. Mount the ladder with the hand that doesn't hurt now. Watch for neighbors and popo.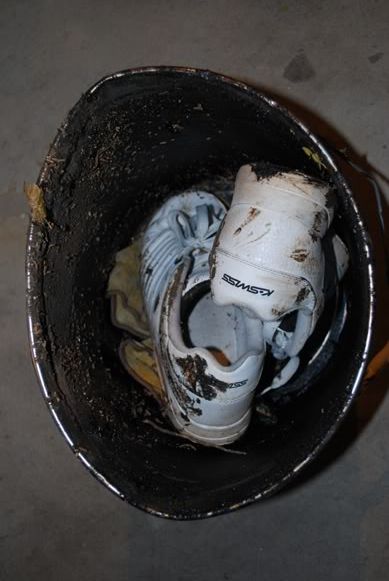 7. Be sure your old can of mineral spirits did not evaporate. Oh, there are substitutes for cleaning your skin in a pinch such as; rubbing alcohol, hardcore toner, even nail polish remover. However, proceed with caution as this will be extremely time consuming and painful. Also, don't grow too attached to your epidermal layer. The special surprise is when any of these liquids gets in your newly formed blisters.
8. Be prepared to go into public to the
hardware store
afterwards looking as though you have been haphazardly changing diapers all day. Don't touch the steering wheel. You have had only 1 or 2 beers or your spotter drives.
9. Have
cold beer
on standby. For during, after, and in celebration of completion. Yah, it's one of those jobs.
10. Don't take your camera on the roof.